WHAT TO EXPECT WHEN YOU ARRIVE AT OUR HOSPITAL
We look forward to having you and your pet arrive at our hospital.  We have included some important information below on what to expect when you arrive. Please read through this carefully and ensure you ask us any questions you may have.
We will send you a Covid-19 screening text the day before your appointment. It is important that you please reply to this text.
Depending on the type of service we provide your pet we may ask that you bring your animal fasted.  

This means nothing to eat after 8:00PM the night before your appointment. Water is okay but remove first thing in the morning.

If your pet is diabetic or under 6 months of age, please contact us as we may need to give you different fasting instructions.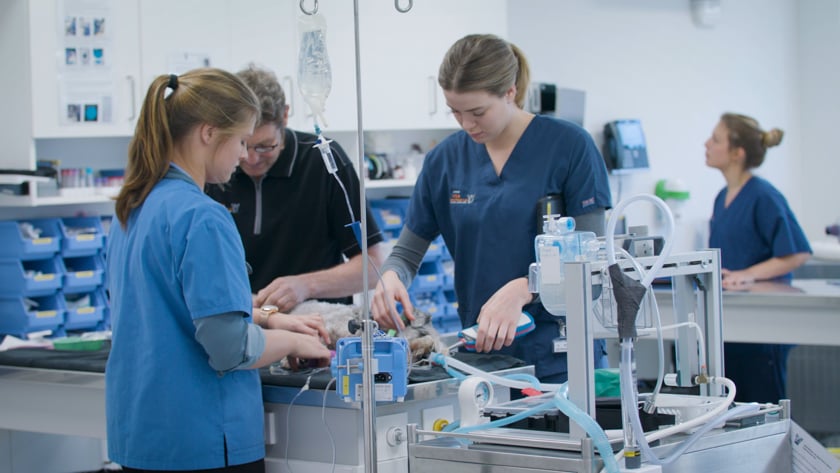 Take a look inside our hospital at the facilities, equipment and people that make up VSA
We aim to provide you and your pet the very best experience when you arrive at any of our hospitals.  The following steps will give you an idea of what to expect when you arrive.
We will check your details to ensure the information we have is accurate.
Please then have a seat in the waiting room and feel free to access our guest wifi.
The Specialist will come to the waiting room and may ask to see your pet walk outside first (dogs only).
They will then take you through to the consultation room and have a chat with you.
If your pet requires any further diagnostic procedures that we are able to perform on the same day as the consultation, your pet may stay with us for the day. Alternatively, we may book them to come back another day if you prefer.
You will then be guided back to reception.
If you have any questions about payment, please do not hesitate to get in touch with us.
Our payment preferences during this time are EFTPOS, credit card over the phone or internet banking.
We have an EFTPOS terminal by the door and are able to accept EFTPOS, Visa & Mastercard transactions. Amex is accepted but will incur a 3% surcharge.
For payments via Q Card or Pet Funders, please let us know.
WHAT TO EXPECT IN YOUR PETS CONSULTATION
The objective of our consultations is for one of our specialists to meet you and to do a thorough examination of your pet. During consults our specialists are often accompanied by one of our VSA/ Zoetis Interns or a visiting vet student.
Before you and your pet arrive for your consult the specialist will have reviewed the case notes sent through from your referring veterinarian. This will include any relevant case notes, blood test results and x-rays.
Once the specialist has completed their examination, they will generally discuss an appropriate diagnostic or treatment plan with you. We always try to give an accurate indication of costs and expectations around these plans. You will then have the opportunity to decide how you wish to proceed.
We are lucky enough at VSA to have access to the best clinical facilities available in veterinary care. On site, we have access to:
Collaboration between all of our specialists to enable your pet to receive the exceptional care that they deserve. We currently have specialists in surgery, internal medicine and diagnostic imaging (radiology).
Purpose-built veterinary specialist hospitals with first class facilities.
State-of-the-art operating theatres with specialist surgical and anaesthesia equipment.
Advanced imaging suites- this includes digital radiography, ultrasounds and computed tomography (CT). We have specialist veterinary radiologists that work together to make sure results are available as soon as possible.
The support of the 24 hour and 7 day a week care provided by the VS A&E team of nurses and veterinarians.
From time to time your pet may need services that we are not able to offer at either of our hospitals. We are fortunate enough to have access to some incredible facilities including magnetic resonance imaging (MRI), radiation therapy and interventional radiology.
The specialist team will produce a detailed report to be sent to your regular veterinary clinic to keep them updated.
To make an appointment with our team, please click below.
Thanks goes to the team at Sylvia Park, you do a great job and I highly recommend your services.
Amanda Lane
Had my elderly cat put down over the weekend as she suddenly got very unwell , kind caring nurses looked after us. Highly recommend.
Pamela Hayde
Highly recommended! Our cat had minor surgery at our usual vet, but unfortunately the wound opened on a weekend when our vet was closed. VSA were so helpful and the team were extremely kind. It's very good to know VSA are there 24/7 to help. Thank you!
Susan R
We phoned VSA over the weekend with concerns over our cat, Oscar who had a nasty bite wound – we received wonderful advice over the phone. We ended up taking our cat in to the Sylvia Park branch and we were looked after Dr H Lu. She was absolutely amazing. She had a calming presence and despite being in pain, our cat was relaxed and calm with her. Dr Lu was very caring and you could tell she truly cares and loves animals. She took her time examining Oscar and treating him and spent a great deal of time patiently explaining everything to us and answering our questions. I was very impressed and touched by her compassion and caring nature. Dr Lu explained the charges and checked it was all ok before proceeding which was good. She was not pushy and we really felt she went over and above particularly in an emergency when we were stressed and concerned. Very impressed!
Christine Ranjan
I ended up here with my poor cat whom I ran over by accident over Easter. I was extremely happy with the service I received. The staff were all very friendly, professional and had great communication. The vet we dealt with was thorough and knowledgeable. It was a very stressful day knowing I'd injured my poor pet, but the staff were really lovely. Thank goodness my cat is ok and used the first of his 9 lives. I am really grateful for the quality, honest care they provided. Thank you to the team at VSA.
Nicky Lowe
Looked after my darling girl when she suddenly passed overnight. Staff and facility were great. I felt at peace leaving her with this team. Treatment towards me was very caring after she had parted.
Connyr Atiga
We have taken our puppy to VSA for two incidents, one being a broken leg. Their service was impeccable – the staff are all wonderful to deal with and thanks to their work our pup's broken leg healed in the best possible way after surgery. In a stressful situation, it really put our mind at ease knowing our pup was getting the best care possible. Highly recommend VSA.
Siobhan O'Sullivan
Amazing people, truly care for the animals. Highly recommended if you need a top-class surgeon.
Alysia Redmond
Thanks to the team at VSA for performing surgery on my bulldog who had Brachycephalic Obstructive Airway Syndrome. They looked after her very very well. We got plenty of updates while she was in there. Great team, amazing job!
Mikayla Ahkiau